Sinoquipe Camp Stewards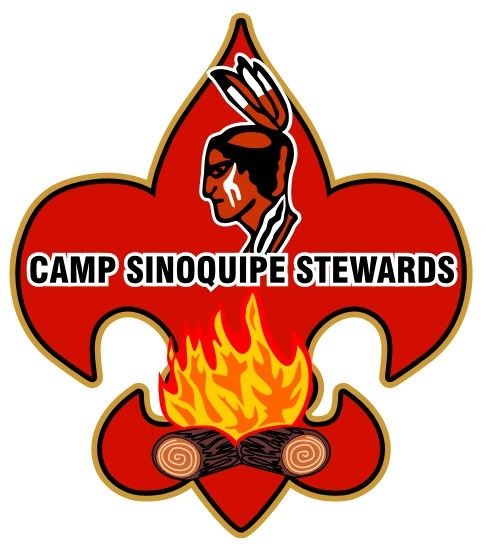 Created in 2012, the Sinoquipe Camp Stewards promotes Scouting values and fellowship by continually maintaining and improving the Sinoquipe Scout Reservation, lovingly called Camp Sinoquipe, for future generations. The Camp Stewards assist in getting camp prepared for the summer season, works on various projects at camp including the construction of the Lakusin Pavilion for the First Year Campers program, and resanding the floors of Kerstein Lodge and Altenderfer Lodge, and also supports camp programs, including the purchase of four new kayaks, and a popcorn maker for winter camping Saturday movie nights and summer camp. Along with work days, the Camp Stewards meet quarterly.
These past several years have brought many new and exciting changes to the Sinoquipe Scout Reservation. With the help of volunteers and staff, there have been marked improvements in the overall condition of the buildings and grounds. The Camp Stewards program allows its members to choose what projects to move forward on and funds them through membership dues. Most projects are things that may not be in the Council's budget, but are still important and will make a lasting difference in camp. Projects can be capital projects or program related items.
To help improve Camp Sinoquipe and keep it a premier Scouting destination, consider joining the Sinoquipe Camp Stewards, and experience the fun and fellowship for yourself.
Top 10 Reasons to Become a Camp Sinoquipe Steward
Camp Sinoquipe Stewards are more than just a group of folks who serve on a committee. You would be surprised just how much of an impact you can make on the lives of Scouts as a Steward by choosing new projects. Here are 10 excellent reasons for you to consider:
1. You get a neat patch.
2. Where else can you pay to work?
3. Pot lucks . . . . We've got pot lucks like nobody's business!
4. Spend quality time with Ranger Jack.
5. For only $8.00 more you get a special Camp Stewards name tag!
6. Discount if your first name is Stewart!
7. No special skills needed. We'll find something you CAN DO!
8. Fellowship and fun!
9. The opportunity to see Sinoquipe wildlife. Oh, you will get to see birds and bunnies and squirrels and stuff, too.
10. Did we mention you get a patch?