Winter Camporee - Cowan's Gap State Park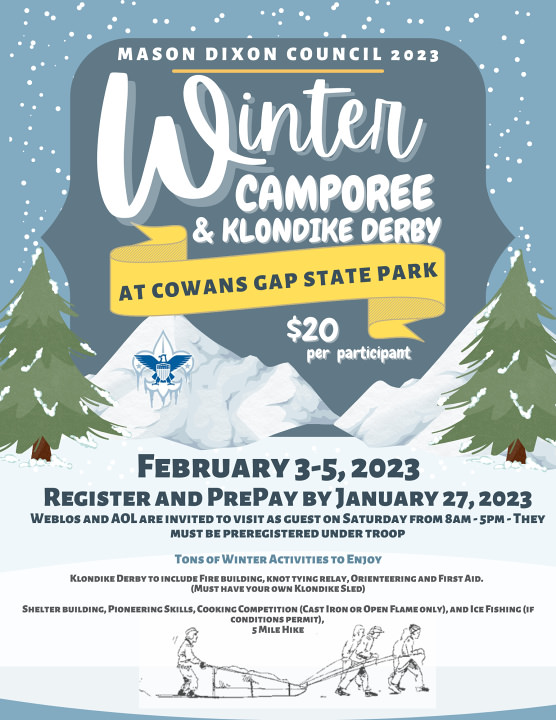 Date/Time:
Feb 3, 2023 6:00 pm to Feb 5, 2023 11:00 am
Location:
Cowan's Gap State Park
6235 Aughwick Rd
Fort Loudon, PA 17224

The Mason-Dixon Council invites you to attend the Winter Camporee and Klondike Derby. This Camporee is open to any registered Scouts BSA Troops, Venture Crews, and Sea Scouts. It is also an opportunity for Troops to invite Webelos and Arrow of Light Scouts to come see what adventures may lie ahead for them if they continue in their Scouting journey. Please review this leader's guide to learn more about the camporee. This camporee will be a weekend of fun-filled activities at Cowan's Gap State Park. This is a great location to hold this event with everything Cowan's Gap has to offer. Cowan's Gap was chosen as the Camporee site for this Camporee because it was a former site for the Mason Dixon Council's summer camp before summer camp found it's home at Sinoquipe. At this winter camporee we remember and celebrate the history of our council's events by hosting an "old school" scoutcraft skills camporee and Klondike Derby at a former camp location.